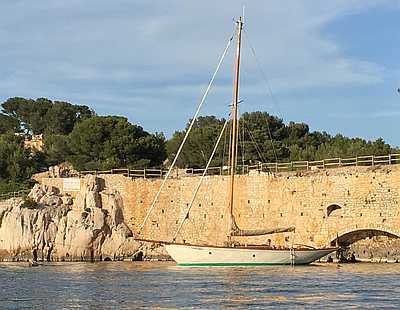 The Yacht "Rafale" has been build in 1935 by Chantiers de la Liane in Boulogne France (near Calais).
Rafale is our second boat after the little Folkboat "Nipper" from 1964 which we aquired in Toronto and brought back to Europe once we moved back. Nipper was a family member, we loved her a lot. Rafale is a home.

Rafale still carries her first name meaning "gust" in english. Sailors shall not kill dolphins nor rename their boat. Luckily all owners before us kept these words in mind.
She is old, but in a very good shape- strong and mostly original inside and outside.
We do have the original documents from her launching in 1935 as well as all, Lloyd's documents from the design and building process. She is build as a auxiliary cutter for a Monsieur L. Babin from Nantes under Lloyds A1 requirements.
From "Le Yacht" 10. 8.1935:

News and nautical facts

The Chantiers de la Liane proceeded last Saturday, in the presence of several guests, the launch of a cutter, 13m20 in length, built for Mr. Babin, of Nantes, under the supervision of Lloyd's and which received the A.1.18 rating.
The Yacht, whose godmother is Ms. Coz, received the name Rafale.

(I think Robin-Babin is a transscription error)
In 1937 she was registered for the La Baule-St. Nazaire-Plymouth race with L. Babin. But for some unknown reason she did not start.

In 1946 she was put up for sale in a small ad in "le Yacht":
After that the traces have been lost. From what I know she was kept in the mediterranean with home port Sanary until the 1975. Also as a charter yacht.
Then she was bought by M. v. Herberstein and stayed in the Golfe de Morbihan up until the 1987 when a boatbuilder from England bought her and restored her.
She still spend the years in Cornwall and Bretagne until we sailed her to Germany.
Keepers:
1935 L. Babin -Nantes France
1947 ?
? Y.V.M. Location -Sanary sur Mer France
1974 A. v. Herberstein -Golfe de Morbihan France
1989 G. Wright -Devon UK
1999 B. Pope -Cornwall UK
2005 C. Casey -Cornwall UK
2016 B. & Ch. Schulz -Baltic, Kiel Germany
She at least crossed the Atlantic once, and participated at the Brest Festival in 2000 as well as the 2001 Americas Cup Jubilee.
What sets her apart from other yachts of her time and size is that she is almost flush decked, but has a full crusing interior. Kept over the years and not ripped out in the seventies to be replaced by plywood-teak-application wonders. If you do know something: contact me please.
Still 14tons of teak, oak, acacia and lead. With her original interior, basic but functional. The rigging is changed from 3/4 to top rigged.
She still carries a cutter rig, but the boom has been shortened and a roller furling has been added. As we usually sail her with only two, we have to keep it that way.
She sails pretty stiff, so usually the deck gets only wet up to the mast, even in force 6 winds.
Chantiers de la Liane was a quite modern yacht builder by todays means, as they had their design office in Paris, Champs Elysées No. 26. They had two yards: one in Marseille and one in Boulogne sur Mer. Her designer was their Head Engineer, Lomakin a Russian living in Paris.
They did participate in the Salons Nautique in Paris. This is a picture from their stand in 1928. The Yacht here looks very similar to Rafale so maybe a series design, just slightly bigger or smaller from boat to boat.
A list of still existing Yachts from Chantiers de la Liane:
Carimba 1930
Beg Hir II 1935 link
Amadour 1938 link
Winibelle II 1932 link
Romance 1934 link
Kertios 1936 build in Marseille link
The hull is in excellent shape as she is build out of teak on sawn oak frames and and bend in acacia- all copper riveted.
Here some impressions from inside:
Some more stories